Very original comedy made like a gangster drama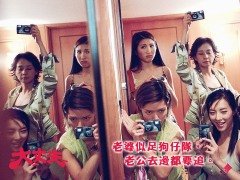 How can you make your gangster movie when a studio wants to release a comedy ? Mix the two! That's the simple but great idea that Edmond Pang had, and he delivers for his second movie one of the best comedies of the year, if not the best so far. Well written, strongly acted and directed, Men Suddenly in Black is quite simply a cracker.
To mix the two genres, MSIB uses a very simple concept: the story is funny, but acted and directed in a very serious way, just like in The Godfather or Ocean Eleven. Of course, it requires good actors, but the cast is impressive. From experienced excellent actors (Eric Tsang and Tony Leung, fabulous, Teresa Mo) to newcomers (Tiffany Lee, Chapman To), with the help of some confirmed actors (Candy Lo, Jordan Chan), the cast is really delivering good performances. Then not only this idea of mixing the two genres is great, but the script is full of ideas (the cameras replacing the guns, the songs, the flashbacks) and shows an excellent knowledge of the gangster and action genres. All the key scenes are there: preparation for the misdeed, memories of the boss who sacrified himself, gunfight, etc... With the same cast and crew and a serious crime story, Men Suddenly in Black would have surely been another excellent movie. But the comedy aspect makes it more original.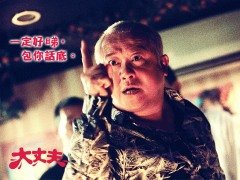 Just like the precedent movie from Edmond Pang, there is a lack of rythm in the middle of the movie. It's quite hard to keep the same level all the time, and the part which follows the women is less funny. It's not bad, but just not up to the rest. But one shouldn't forget that it's only his second movie. All the rest is very convincing, from a very nice and energic directing to an appropriate music by Peter Kam. Also, the movie doesn't try to be only funny, but tries also to talk a bit seriously about marriage.It makes fun of relations, but without representing it only as a game. At last, by talking about guys fooling around in Hong Kong, it manages to talk also about the golden age and the difficulties faced nowadays. Funny yes, silly, surely not.
To summarize, Men Suddenly in Black is quite simply one of the best surprises of the year, a comedy with a brain confirming that You Shoot I Shoot wasn't an accident and that the name of Edmond Pang Ho-Cheung should be remembered as one of the most promising directors in Hong-Kong. Highly recommended.