A triad thriller which doubtlessly marked its time. For good reasons, that's not so sure.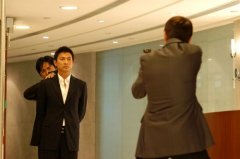 Infernal Affairs is more than just a film, whether you like it or not, Andrew Lau Wai-Keung has yet made of this film a symbol. A symbol first because he bring the greatest hong-kongese actors (except for Tony Leung Ka-Fai, Jacky Cheung Hok-Yau and others, of course). Andy Lau Tak-Wah is nothing less than THE star since the hand-over, Tony Leung Chiu-Wai is probably the best actor of the peninsula since Leslie Cheung Kwok-Wing's passing, Anthony Wong Chau-Sang and Eric Tsang Chi-Wai are the two "veterans" in the HK field and Shawn Yu Man-Lok (less for Edison Chen Koon-Hei) is a young and very gifted actor. Symbol also because the kind it belongs to may be the most culturally hong-kongese of the cinema (besides mo lei to comic and wu xia pan movies) for the triads are so ingrained in the local society. Symbol finally because Infernal Affairs represents the beginning of a new cinematographic era for Hong-Kong cinema. After the golden age of the Shaw Brothers wu xia pan movies, after the 80's silver age personnified by Jackie Chan, Sammo Hung, John Woo, Chow Yun-Fat or Yuen Woo-Ping, after the 90's bronze age when Johnnie To Kei-Fung's thrillers rubbed elbows with Jet Li's best movies, here comes a new age launched by Infernal affairs and later confirmed by movies such as Kung-Fu Hustle or New Police Storyp>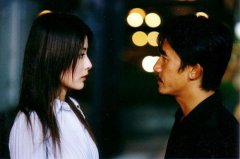 I won't drag on the visual direction, way more technical than intuitive, I'll just say that photographic cleanness wasn't really the main strength of first Milyway's thrillers, and yet... The plastic beauty is laudable, on the condition that the content is alike. We shall not sacrifice the creativity to the international conventionality. The scenario brings nothing really new, undercovers, in Hong-Kong, we've seen (though the opposition of two moles is quite unseen). However, behind this apparent common theme hides a true work on characters like you don't see enough. Some are more neglected than others and you sense a moral temperance from time to time, the movie introduces us four characters (the two moles and their bosses) whose psychology are quite well depicted, nonetheless. Unfortunately, like too often, the success of the film turned against itself and two sequels (a prequel and a sequel) were pulled out of a not so abondant scenario in terms of narrative fullness and, like it wasn't enough, rather closed to any sequels. The two sequels sustain a bit the general plot and confer a momentous importance but not that justified, to the first episode wich doesn't have the ressources to assume it. The choice of "trilogying" this film is therefore questionnable.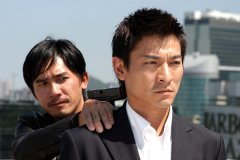 Tony Leung Chiu-Wai is majestic, he's the only one to play through feeling and not technically. Even if every one here had similar trainings, Tony, in opposition to everyone else, seems to have forgotten his TV background and left his "studio-actor" jacket on Wong Kar-Wai's sets. Of course this is not the first time he amazes us, but he does it once more and this contributes a lot to the general credibility. Eric Tsang, Tai Lo of the Hong-Kong cinema, play fairly among the younger and, if you consider the whole trilogy, gets the best-build character, therefore the most interesting too. Andy Lau is also brilliant, he too, knew how to contain his playing, internalize the character and delivers us an impressive performance for its sobriety and stands up to his partner Tony Leung without failing. I don't think that his will to drop everything is "politically correct", on the contrary, politically correct, let's call it conventionality, would have wanted that the "bad-vilain" stays one until the end, and when you know the outcome, we're far from conventionality.
In Brief, a new era asserts itself in the Hong-Kong cinema with Infernal Affairs, the age of penniless films is well past. But that eventually implies a creativity impoverishment wich weight on those films, IA among others. Nevertheless, a scenario centered on the psychology of the characters, played by great actors along with a few absorbing scenes, make out of this film a must-see triad thriller.
Good movie, but lacking development when the story needed it
Infernal Affairs could have been much more. But Infernal Affairs could have been another ghost movie or comedy. After it's huge success in HK, people are maybe expecting too much from this long awaited movie. A lot can be improved, but still there is enough to eat and drink here. Let's have a look at the menu:
The story by Alan Mak is quite interesting even if not very original. The interesting idea is to have both a cop and a gangster as moles, one in the triad, one in the police. Who discovers the identity of the other one wins. Plus some interesting ideas about temptation to become like the people around you.
Then you've got this huge casting, with award-winning actors everywhere. Andy Lau is not as good as the three others of course, but 10 years ago he would have been unable to offer this kind of performance. Anthony Wong is quieter than usually, but still impressive, Eric Tsang delivers his usual solid performance, and Tony Leung is astonishing. He wears the story of his character on this face.
Another interesting fact is that the big budget (40 millions HK$) wasn't spend in huge action scenes or eye-candy CGI. This is a movie about characters and suspense. With a slow pace, and some impressive key-scenes. The Andrew Lau's touch is surprisingly missing here, and that's a good news, as his style definately doesn't match with this kind of movie. The few moments when you see clearly his style, with fast editing and MTV effects, are not matching with the rest of the movie.
However, the movie is really missing at least half an hour to be convincing. The female characters are just sacrified, with so little time on screen that it's impossible to feel anything for them. And it's a pity as Sammi and Kelly are able to deliver more than what they were given. Same for Shawn Yue and Edison Chen. There are a lot of interesting ideas, but which are never developped. Also, the slow pace isn't benefical, giving the strange feeling that nothing so important is happening.
As a conclusion, Infernal Affairs is not Full Alert. It's nice to see something else than a comedy or a gwai movie nowadays in HK, and to see such a casting. Still it's a bit disappointing to see that they could have delivered such a strong thriller with more development. In a few words, don't expect too much, then you can enjoy it.
Pro And Cons
Since it's Hong Kong's achieved attempt (the movie was a surprise box office hit and it will probably have good worldwide sales) to compete with international technical standards in genre movie (i.e. to regain the public they lost because of korean cinema), the case Internal Affairs is worth an examination.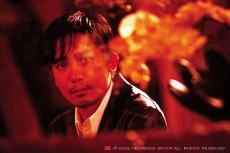 PRO: the excellence of Anthony Wong in a more sober register, the class of Eric Tsang, an Andy Lau in good acting form, Tony Leung Chiu Wai surpassing them all (take for example the risqué scene when he's meeting again his ex-wife, in which Tony is giving a performance full of regrets, and in the rest of the movie his charisma and his way of expressing a lot in just one look), the good directing of Alan Mak as classic as in A War Named Desire and which isn't ruined by the editing of one of the Pang brothers, the wonderful photograph of Andrew Lau very much reminiscent of the one in Going Home (as a coincidence Christopher Doyle is here as a visual advisor), the screenplay idea of a double Hard Boiled (the tribute to Woo is most obvious in the scene when Huang reminds Yan of his birthday) and the fact that this answer of Hong Kong to korean blockbusters is more psychological thriller than Bay-like action, the use of mobile phones in the screenplay to create tension, the artificial looking but sober end of the mandarin version.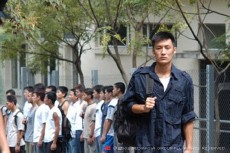 CONS: Shawn Yu and Edison Chen are as charismatic as an oyster and the limited acting of Kelly Chen and Sammi Cheng makes us miss the presence of Maggie Cheung or Brigitte Lin, the video clip like directing of Andrew Lau with bad use of accelerations and inserts, the fact that the screenplay is less developped than in the best US psychological thrillers (the relations Yan/his psychiatrist, Liu/his wife who's a writer are less developped than in Heat or the Insider and they are too much predictable -the psychiatrist caus' Yan is a "schizo", the writer who mystifies just like her opporunist husband-), the fact that the film never manages to become as great as the alluding to Rome sentence of the opening sequence made it hope -here we've simple cops and thugs not Ceasars like in Heat-, the James Bond like aspect of some plans of the mobile -the sponsor has to be shown-, the Hans Zimmer mood of the score even if it's more bearable than in Shiri or 2009, the as atificial as the mandarin one cantonese end but a little bit worse caus' of too much emphasis after a sober movie. And mostly, the fact that on a same theme it's miles away artistically from Hard Boiled.
At the end, for every quality, there's a drawback and, while it's not disageable to watch, the movie has neither the Hong Kong magic touch worldwide success Shaolin Soccer managed to keep while managing to compete with international technical standards nor the qualities of Hollywood at its best.