An outstanding piece of action, heralding King Hu's directorial rule.
Come Drink with Me was King's first attempt into the martial arts world so to speak, and was already a very successful one, which triggered King's illustrious career outside the Shaw bros. production company. It is probably one of the most enduringly influent 60s martial arts movie, as much for the action itself as for the kind of characters it generated, and is often hailed as Ang Lee's main reference for CTHD. Yet, the film starts as a very conventional one, with an ambush scene which could be seen in any other martial epic of the same period (Temple of the Red Lotus for instance), but soon introduces a number of relatively appealing characters who offer interesting interrelations.
Cheng Pei Pei and Yueh Hua are in the limelight, of course, and I think one of the reasons for them to be such a winning duo is their ambivalence. Golden Swallow is mistaken for a guy during the first part of the movie—King Hu was used to this kind of gender-bender from his experience of Huangmei operas—, and there is also a more symbolical inversion of sexes notably in Drunken Cat's care for Golden Swallow, which culminates in the ever sensual poison-sucking scene, and the obvious fact that he befriends children, as opposed to the wicked Jade-Face tiger who prefers to kill them, and who is also overtly androgynous as he powders himself and uses a fan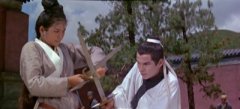 as his secret weapon. That inversion would often be found in many of King's subsequent films, but there is nothing too Lacanian about it either, the film remains a straight-to-the-point action piece. Drunken Cat's heroism is also a highly ambivalent, unsuspected one, far from the brashness we normally find in this kind of movies, and consists in concealing his dexterity behind his drunkennes and antics (Yueh Hua claims he showed up deliberately drunk on the set) rather than displaying it. And last but not least there is Abbot Liao Kung, Drunken Cat's former master, whose buddhist frock hides an arch-villain.
As to the supposed influence of CDWM over CTHD, we could sum it up to the inn scene, the martial-fantasy elements, and Cheng Pei-Pei of course, but all this is largely found elsewhere. So I think the groundbreaking status of the film is a bit overstated. Inn scenes were all over the place at the time so let's just pass on that even if it's a very successful inn scene. Obviously the supernatural powers of the characters make the film a threshold for King Hu who would then often use fantastic themes, but here they are treated in a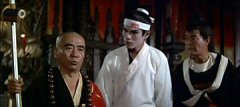 somewhat campy and childish way (the mighty palm stream and the splitting of the rock), that is still entertaining to watch nonetheless. And Cheng Pei-Pei as charming as she is is, I think, not as cute as Chin Ping. Speaking of her, I really think CDWM steals the popularity TORL deserves, if it were not for King Hu's unquestionable genius, who was still a budding director at the time, in the sense many of his ensuing movies would do far better in terms of location shooting, and would even reach an unmatched sumptuosity in that matter. Yet as a Shaw bros. production, Come Drink with Me is bound to remain a classic.