Police corruption or how a man became the top cop of HK from nothing.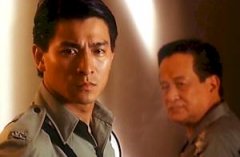 Lee Rock is a major film in Andy Lau Tak-Wah's career. Firstly because it was shot in a period when he starred in like a dozen of movies a year (actually it's 14 in 1990, year of Lee Rock, but his record is 15 movies (!), as the main role of course, in 1989), lousy ones for most of them, which makes out of this feature one of the best one fom these years (in France, there's a saying : "In the blind people kingdom, one-eyed men are kings"...although it sounds better in french...). It's also a major movie because it gives to Wah-Jai (Andy) one of his characters the hong-kong people recall the most. Indeed, the film made a 30 millions HK$ score at the local box office (more than the double than A Moment Of Romance, a most revered movie in HK though) and gave to Andy Lau his first best actor Hong-Kong Award nomination (stolen by Eric Tsang Chi-Wai this year).
The movie tells the apparently true story of a Hong-Kong cop and his journey among the police force from night patrol state to the super intendant chair. That's the foreground, but the background, at least as important, treats of Hong-Kong and its people, its love mores, its night markets...All of this happening in the 50's-60's-70's, you can see step by step, the economic boom raise the whole peninsula through an off screen voice punctuating the film which points simple things prices (a noodle soup, a congee...) heightening years after years, changing the post-war Hong-Kong, culturally still very chinese, into the metropolis we know nowadays, economical and cultural crossroad.
Lee Rock sign on with the police forces for money matter only, because at that time, British officials recruited a lot in order to stop the triad plague, creating this way some work which a whole social class got the advantage of. That partly explains why the police soon constituted a gang among the others, only they also have some control on other triad families. The thirst for justice doesn't exactly light up the character and yet, contrarily to all his colleagues, he's gonna refuse any bribes from "protected" stall owners. Which soon attract contempt from his colleagues but also the sympathy annd the respect from Lardo (Ng Man-Tat) who'll become his link with the street.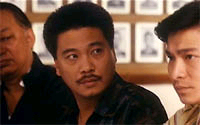 Because despite his integrity and because of his chief's advises and of the fact that he soon understands the power a cop can have, he redically changes and decides to let out his craziest ambitions. In a few years time and thanks to several well-placed friends, Lee Rock doesn't restrain himself to his dazzling progress in the police chain of command but also organizes transactions and bibes management, bringing a framework which had never existed before to these extortions from then on in position. Which explains why many years later, the police had a devil of a time to untie this criminal node deeply rooted.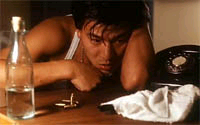 Beyond the seeming denouncement of corruption infesting the Hong-Kong police in these days, the movie treats mostly of the change with a capital C, that occured in Hong-Kong. Just like Golden Chicken ten years later, Lee Rock stages a character which is nothing but the personification of the city, dropping its nonchalance and its surrounding mess for a methodical strictness and a growing greed.
Andy Lau largely deserves his nomination for he carries the role with verve, without falling neither into immaculate integrity at the beginning (but simply showing mistrust and contempt to freeloaders), neither in th easy infallible boss role who success in everything in the second part of the film. Ng Man-Tat is also excellent in a kind he knows well between Andy Lau's movies and Stephen Chow Sing Chi's ones : the poor street guy in good terms with the Goo Wak Jai (triad memebers) as well as with the Tsa Yan (cops).
In Brief, despite a repellent photography (although the DVD is for something in that matter), Lee Rock appears to be a must-see for thoses who wish to know better Hong-Kong and the different environments that compose it (cops, triads, merchants...). A movie without stonewalling like Wong Jing sometimes does which treats in a very politically improper way, of the upward mobility of a cop (very well played by Andy Lau) in the 60's/70's, personifying the economic soaring of Hong-Kong of these times. A good movie, almost social, to see.