A must-see in Hong-Kong cinema alright, yet a bit "too much"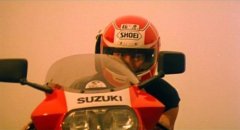 A Moment Of Romance is a symbol for a whole generation. It is probably the first film, or at least the first smash-hit, to open this wave of "young & cool triad members" movies so popular in Hong-Kong. Andy Lau Tak-Wah, thanks to this film but also to quite a few others, contributed a lot to the creation of that kind of movies. Actually this film is probably the most "cliche" you'll ever see, however it stays true and honnest and thanks to some weird alchemy, it works and shouldn't let you indifferent to this love story.
It's the simple and tragic story of a young and futureless Goo Wak Jai (mobster) played by Andy Lau who accidentally lead a young and rich girl (Wu Chien-Lien) into a dramatic situation : because she's seen the faces of the gangsters, she soon become the target of Wah-Dee's fellows (Andy Lau). Although he rejects her fledging love, he won't let his "colleagues" hurt her. How this impossible love will end and how Wah-Dee's triad issues wil sort out ?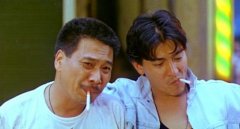 The story as you see, couldn't be more conformist.The film is filled with easy slow motion shots, every stereotypes can be listed here, the love between the rebel and the rich girl, the inside war of Wah-Dee's gang, supporting roles characters (for exemple Ng Man-Tat and his usual looser role)... Indeed, not one compromise will be done and it's precisely in that honnesty and that fullness that lies the success of the movie. Because althoug every characters are simply written, although the storyline couldn't be easier to follow, although some scenes are just a cliches succession, most of you will be touched or at least concerned by this tragic story.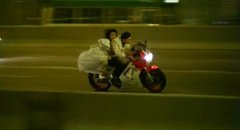 Andy Lau is unfortunately dubbed, which is truly a shame for his playing is quite convincing thanks to the coolest posture he's ever taken and an inimitable style. By seeing him, you can understand why he's been the one to play the best roles (and also several lousy ones) in that kind of movies, he radiates coolness and his deep gazes steal the camera as if he'd own everything surrounding him. Wu Chien-Lien, although she's still pretty young, already shows a doubtless potential and Ng Man-Tat is always comfortable in his usual jacket (he made dozens of roles just like this one).
The visual direction is clean enough, there's nothing to be excited about but there are still some really stereotyped yet good shots like the one with the couple on the motorbike (sorry, THE motorbike) riding away from a gigantic explosion in the background....a must-see ! The music is revered in Hong-Kong and indeed creates an indisputable tremendous effect on the whole.
In Brief, there's a reason why this movie is one of the most worshiped in Hong-Kong. Of course it's because of the dream romance between the rich highschool girl and the cool and dangerous triad member played by Andy Lau, from then on deified, and because of the most romantic music. But those reasons are worthy ones for the story and the lives at stake manage to involve you in this story. And if you're not totally unmoved by melodrama like this one, A Moment Of Romance is a movie you should watch.