A good typical HK 80's action movie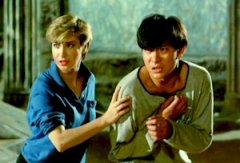 Magic Crystal is the stereotype of HK 80's action movie, quite oriented "Seven Little Fortunes"" as it's clearly a recognized child of the best Sammo's, Yuen Kwai's and others of this period :
- alibi-screenplay mixing diverse references like Indiana Jones, ET, and spy movies (...!)
- actors not really academic but rather gifted with a mug (of handsome boy for Andy, of total jerk for Wong Jing and of definite evil for Richard Norton)
- ultra-conventional periphal components (clumsy supporting roles, salacious humour, etc...)
- action very "HK" with great choreographies and real blows fights
Everything starts when Andy Lau Tak-Wah, young hot head who work unofficially for the police on delicate cases, receive a phone call from an archeologist friend who asks him to come and meet him a.s.a.p in Greece where he apparently found an artefact that everyone, KGB as well as Interpol, wants to posess.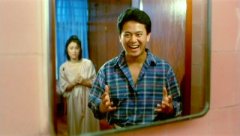 So, alright, Andy Lau in a "last chance man" role, at the age of 25, is hardly believable, same for Karlov (Richard Norton) as a KGB chief speaking twelve chinese dialects and mastering every styles of kung-fu, also the same for Cynthia Rothrock chasing bad guys in Athens with a traditionnal chinese spear...But since when Eastern Condors is credible, since when does the Millionaire's Express scenario is one ?...No, the HK 80's actioner is a pure moment of pop-culture handling with the same ease, efficient choreographies, coarse humour (see Wong Jing and the bidet scene...) and a pseudo-narrative, ultra-rythmic, but not necessarily in a good way.
Andy Lau wasn't at that time the actor he is now and he's not really a reference martial artist, however many people knows that he's one of the few pop actors to be up to serious choreographies (see the mythic opening scene of Twinkle, Twinkle Lucky Stars). Wong Jing is extremely annoying (but was he ever interesting as an actor ?...), and despite the fact that he always give himself funny side-kicks roles, never manages to demonstrate enough absurdity needed for this kind of roles that guys like Ng Man-Tat manage to master brillantly. The little Siu Bin-Bin is very cute and refreshing, Cynthia Rothrock and Max Mok Siu-Chung are good in their Interpol cops roles, Sharla Cheung Man stands for decoration and Richard Norton is once more here as a gweilo (gweilo means "white devil" in cantonese)...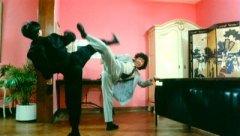 Speaking about gweilos, I'd like to take this opportunity to say something. It is true that westerners, since opium wars of 19th century until recently, didn't bring much good in China and Hong-Kong, and, because of their greed and their lack of moral, even contributed to keep chinese racism going. However, that some filmmakers more than a hundred year later uses that kind of historical facts or heroes (like Wong Fei-Hung) or even some sides of chinese collective unconscious in order to feed their stirctly personnal xenophobia, I think about people like Tsui Hark, Stephen Chow Sing-Chi and here Wong Jing (who put a "gweilo" every five minutes), I find that easy and pathetic.
In Brief, a gathering of good components for this movie to watch with three nerve cells but which delivers its dose of action well-controlled and even has the good idea to take a trip to Grece. Magic Crystal, is a good typical 80's HK action movie, for fanciers of the genre...